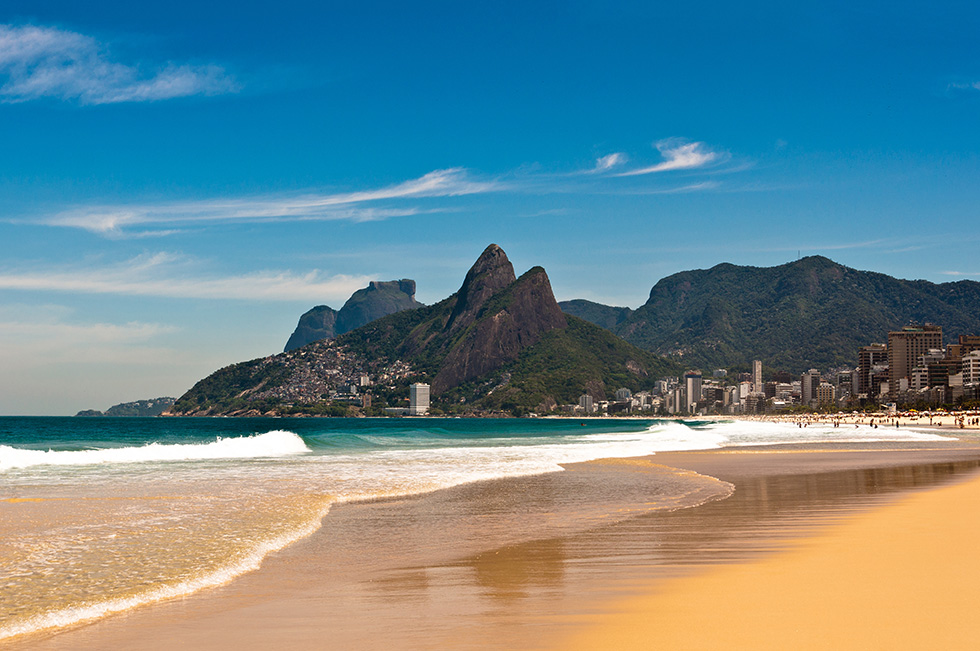 It is impossible to talk about Rio de Janeiro without mentioning its golden sun-kissed beaches. So get your sunglasses and your suntan lotion ready and check out the blend of classical sights and less obvious destinations below.
Arpoador Beach
Out of Rio de Janeiro's more famous beaches, Arpoador is the most interesting. Whether you plan to observe the sunset from the rocks, or  relax on the white sand, or perhaps a surfing adventure is better suited for you, it is impossible to come away disappointed. One good tip is to walk the trail from the Arpoador Tip, which separates the Devil's Beach (Praia do Diabo), bordered on the other side by Copacabana Fort, and Arpoador Beach itself which is at the Copacabana end  of Ipanema. Not only is it easily accessible, but the views are simply astounding.
Ipanema Beach
Immortalised in  Vinícius de Moraes' and Antônio Carlos "Tom" Jobim's famous song "Girl from Ipanema", Ipanema Beach is an absolute must for tourists. Boasting excellent infrastructure, including public bathrooms and lifeguard stations, this beach is close to several bars and restaurants, ensuring convenience. However, be prepared for crowds, especially  at weekends.
Dangerous Beach (Praia do Perigoso)
On the circuit of less obvious destinations, the Praia do Perigoso is ideal for people who like adventure and breath-taking landscapes. It is somewhat far from more common destinations such as Ipanema and Copacabana. This beach's location in far-out Barra de Guaratiba means that one needs to walk along a trail for 40 minutes to get to the beach. However, along the way, one can see the Turtle Peak (excellent for abseiling) and also the Middle Beach (Praia do Meio). Furthermore, the Dangerous Beach (Praia do Perigoso) is almost deserted, even during peak season.
Prainha
If you are looking for a quiet yet more accessible beach, then your best choice is Prainha. This beach stands near Recreio dos Bandeirantes, and is very popular with surfers; however, it is not part of the classic tourist circuit. The beach is surrounded by Atlantic Rainforest, so it's a good idea to get there early. Sunlight disappears after 4 p.m.
Secret Beach (Praia do Secreto)
Very close to Prainha, the Secret Beach (Praia do Secreto) has a natural pool of crystalline waters. To get there, one must follow a short trail of stones. The descent is somewhat steep, but the view more than makes up for the effort. Before planning your visit, pay attention to tidal conditions: the pool disappears during both high and low tides.